13th Annual Historic Soldiers Weekend
Saturday September 23th, 10-5 & Sunday September 24th, 10-3, 2017
Fort Mott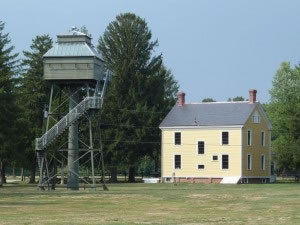 Ft Mott Observation Tower & Post Headquarters
Fort Mott
454 Fort Mott Road
Pennsville, NJ 08070
(856) 935-3218
Size: 104 acres
Fees: HSW is a FREE event; No park entrance fee; Other Park Fees
Driving Directions
Take I-295 or NJ Turnpike to exit 1 at Pennsville, Route 49 East to Fort Mott Road. Turn right onto Fort Mott Road and travel 3 miles. Park is located on right.
Lodging
Comfort Inn & Suites
634 Soders Road, Carneys Point
Econo Lodge Inn & Suites
632 Pennsville Auburn Road, Carneys Point
Hosting Historic Soldiers Weekend Annual Event

Fort Mott invites re-enactors and visitors to the 13th Annual Historic Solders Weekend! Join us and take a walk through history.
Come for the event and support Historic Fort Mott.
About Fort Mott
Located in Pennsville, New Jersey, Fort Mott State Park is the site of a former U.S. Army coastal defense fort. Established in 1896, Fort Mott was built to strengthen the defenses of the Delaware River. Fort Mott consisted of five gun batteries ranging in size from 3-inch rapid fire guns to the massive 12-inch rifles on disappearing carriages which could fire a thousand pound projectile 9 miles down river. An army base until 1944, Fort Mott now provides recreational activities as well as historic structures and fortifications. The shoreline offers good spots for walking and picnicking. The park's museum and welcome center is located in the former Ordnance Building which provides local and site specific displays. A seasonal passenger ferry provides service to Fort Delaware on Pea Patch Island.
Event Visitors
Fort Mott is open to the public year round. We welcome visotrs and famiiles to attend Historic Soldiers Weekend free of charge.
Re-Enators, Vendors & Volunteers
To make your historic display set-up day easier for you; pre-registered groups & units can arrive at Fort Mott and begin set-up on the 26th after 1:00 pm.
There will be WWII 9th Division "Go Devils" on site to guide you to your camp location and where to park your vehicle when you arrive. Additional updates will be sent after your pre-registration has been received and accepted your unit/group.
More information for units and re-enactors can be found in our Unit Registration Guidelines and our Unit Registration Form.
Please contact us with any questions.
Fort Mott Supports Operation Shoe Box
Operation Shoe Box will be on site for HSW. Operation Shoe Box provides much needed supplies to our troops serving overseas. Attendees are encouraged to bring appropriate donantions to support this patriotic cause to imporove the health, welfare and comfort of our troops serving overseas.
Items commonly needed by the troops:
Lip balm
Sun block
Moist wipes
Bug spray - non-aerosol
Bars of soap
Small bottles of shampoo
Deodorant - non-aerosol
Powdered drink mixes
Cereal/Snack/Granola bars
Instant oatmeal - individual packets
Boxes of hot chocolate (individual packets)
Small cans of tuna with pop-tops
Small cans of fruit with pop-tops
Microwave popcorn - individual bags
Athletic socks
Batteries - all sizes
Gum & Candy
Small boxes of cereal
Small bags of trail mix, peanuts, pretzels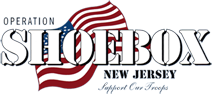 More about Operation Shoe Box at www.opshoeboxnj.org
Or at Facebook and Twitter:
Thank you for your interest!
Related:
Unit Registration Guidelines
Info for Vendors & Volunteers
About HSW 2017